At The Manitou Weather Station
Fierce Northern Pike, plentiful large and small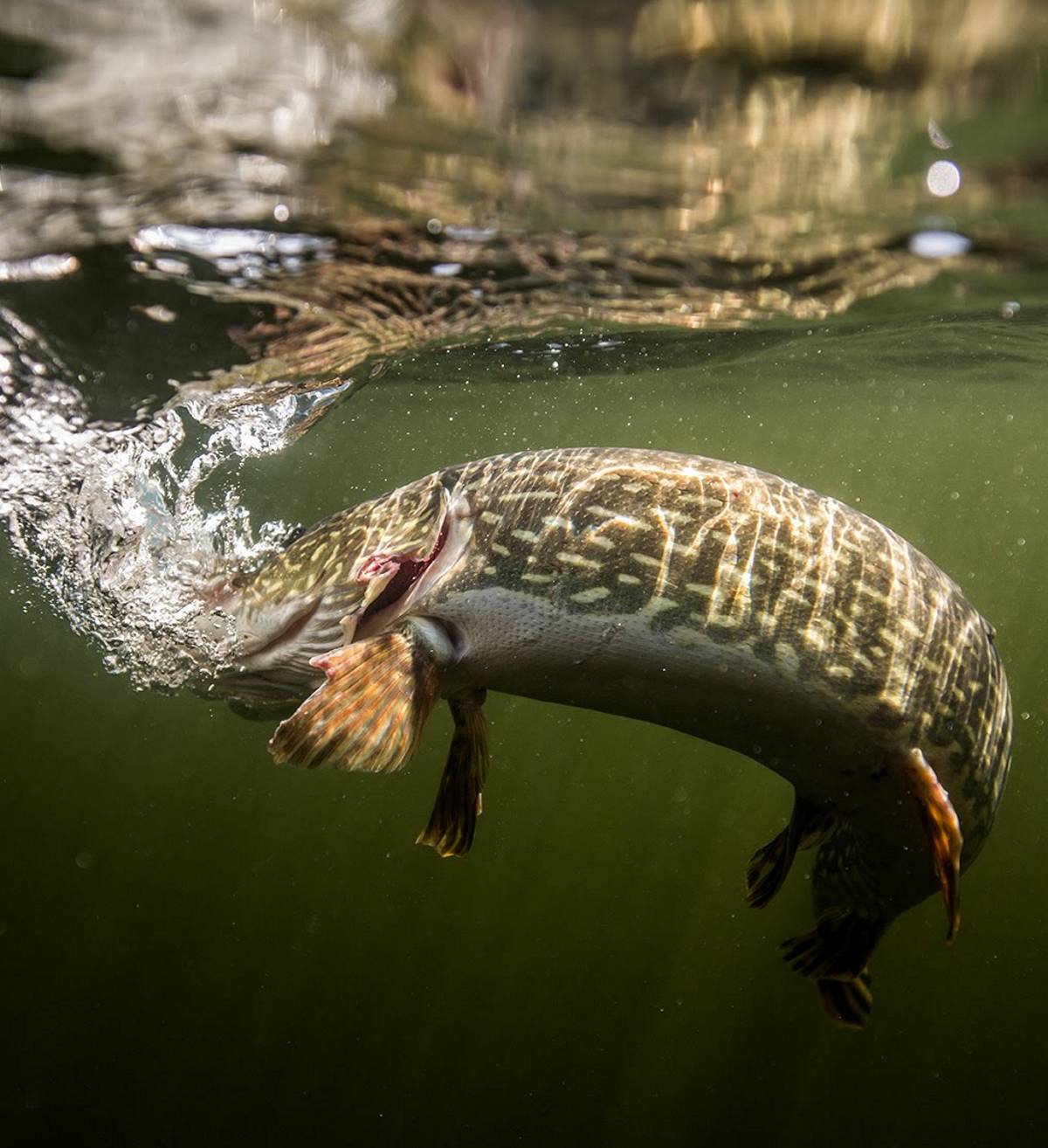 Northern Pike Fishing Manitou Lake
If you look at the satellite photo of Lower Manitou Lake, you can see that the north-east end of the lake is a maze of islands, rocky points and small bays. Most of the bays have weeds such as Water Cabbage, Pickerel Weed, Lily Pads and Bulrushes. These are the conditions that Northern Pike really like. It also has water-flow with a constant supply of migrating baitfish.
There is water-flow between Upper Manitou Lake and Lower Manitou Lake. Baitfish actively migrate through this area, thus the Northern Pike just sit there and ambush their prey and grow larger. There are muskie in the area, but they tend to stay in areas with quick access to the larger open areas of the lake. With this in mind, our Northern Pike and muskie population is segregated, and the muskie population does not prohibit Northern Pike from growing. There is enough room and food for everybody.
Average size of Manitou Northern Pike vary in the lake, common in all sizes up to 10 pounds. You could spend the day hitting back bays during the right atmospheric conditions, catching 30 to 60 pike in a day, depending on how hard you fish and how good you are at quickly taking lures out of pike mouths!
Catching Northern Pike all day is very hard on your lures. You can sacrifice numbers and go after the big ones. There are a lot of Northern Pike in the 20 to 25-pound range in the lake. Lower Manitou Lake is a big-fish lake, there is no shortage of food and the lake has minimal fishing pressure.
Smaller pike sit in the weeds in the back of bays or they hide in weed beds out on the lake. The really big pike behave differently. Big monster trophy Northern Pike are ambushers – they hang around rocky points leading into bays. They will also hang around areas between weed-beds and drop-offs. The best spots are close to narrows with some water flow and baitfish migrating through.
Even though there is a great population of trophy pike in the lake, pike over 20-pounds are trophies and harder to find. If you diligently fish for pike all week and you are an experienced pike hunter, you should catch a couple in the trophy class. Any Northern Pike in the 15 to 23 pound range is an excellent fish. A 25-pound Pike would have to be close to 50 inches – a pike that big is rare on any lake – but rest assured, Lower Manitou Lake is quite capable of producing Northern Pike of that caliber.
You want to be mobile to find pike at the Manitou, so consider fishing out of one of our rental fishing boats perfect for pike fishing, or hiring our expert fishing guides.
Northern Pike Fishing Tips
How to Catch Pike:
Northern Pike hit just about any lure. They are the easiest fish to catch. Here are a couple of tips to maximize the amount of strikes and some ideas for really big trophy Pike.
The very best bait is a large chub or sucker minnow, but unfortunately many lakes do not allow minnows in an effort to stop invading species.
Lures:
Traditionally the best lures and probably the most popular lures are the Red-&-White Daredevil and the Yellow 5-of-Diamonds Daredevil. You use the red in clear water and the yellow in murky water. Spinnerbaits, Crankbaits, Bucktails and Williams Weedless Spoons also work well. When using a Daredevil, try casting up high and just before the lure hits the water, jerk it towards you so the lure slaps the surface. This slap sound seems to trigger a better feeding response from bigger Pike. Pike are also well known for hitting surface lures. Jitterbugs and Spooks are excellent for Pike.  A growing trend in Pike fishing, which is getting very popular, is fly-fishing for Pike. With large Pike flies, you can drop the fly in an opening in the middle of thick weeds, which would not be practical for normal lures.
Where are the Pike:
Pike can be found everywhere. You will find them in the thick weeds or off shoals and even in the streams that run into the lake. Big trophy Pike generally stay in areas where they can ambush Walleyes, Bass and small Pike.
Time of Year:
In many Northern Ontario lakes Northern Pike will be shallow in the spring and summer and then start to go deep in mid-August. This is not a big issue on Lower Manitou Lake. Many Pike seem to stay shallow while others follow bass, trout and baitfish down to the edge of drop-offs. In the late summer and fall, either fish 15 feet deep off of shoals and ridges or right up in the really shallow weedy water. Some pike go really deep and you can catch them using Lake Trout techniques.
Below is a list of prime spots for big trophy Northern Pike:
Points leading into weedy bays
Along Wild Rice beds where there are lots of Walleyes
Stream or river mouth
In the thick cabbage weed or other big leaf weeds
Under lily Pads
Narrows between lakes or open water where Walleyes migrate
Drop offs close to thick shallow weeds
Deep Ridges
Shoals or rocky points where the bass and Walleye hang out is a good spot. If the Walleyes or bass stop feeding, it may mean a big Pike has started to feed. This is when you switch to something big and flashy.
 Top NORTHERN PIKE Lures
5 of diamonds spoon
X Rap
Mepps #5 (silver)
Panther Martin
Husky Jerk
Phantom
Cracklin Raps
Twister Tails
Northern Pike Weight Calculator
Manitou Weather Station
Northern Pike Fishing Photos
To book your Canadian fishing adventure
Contact Us: